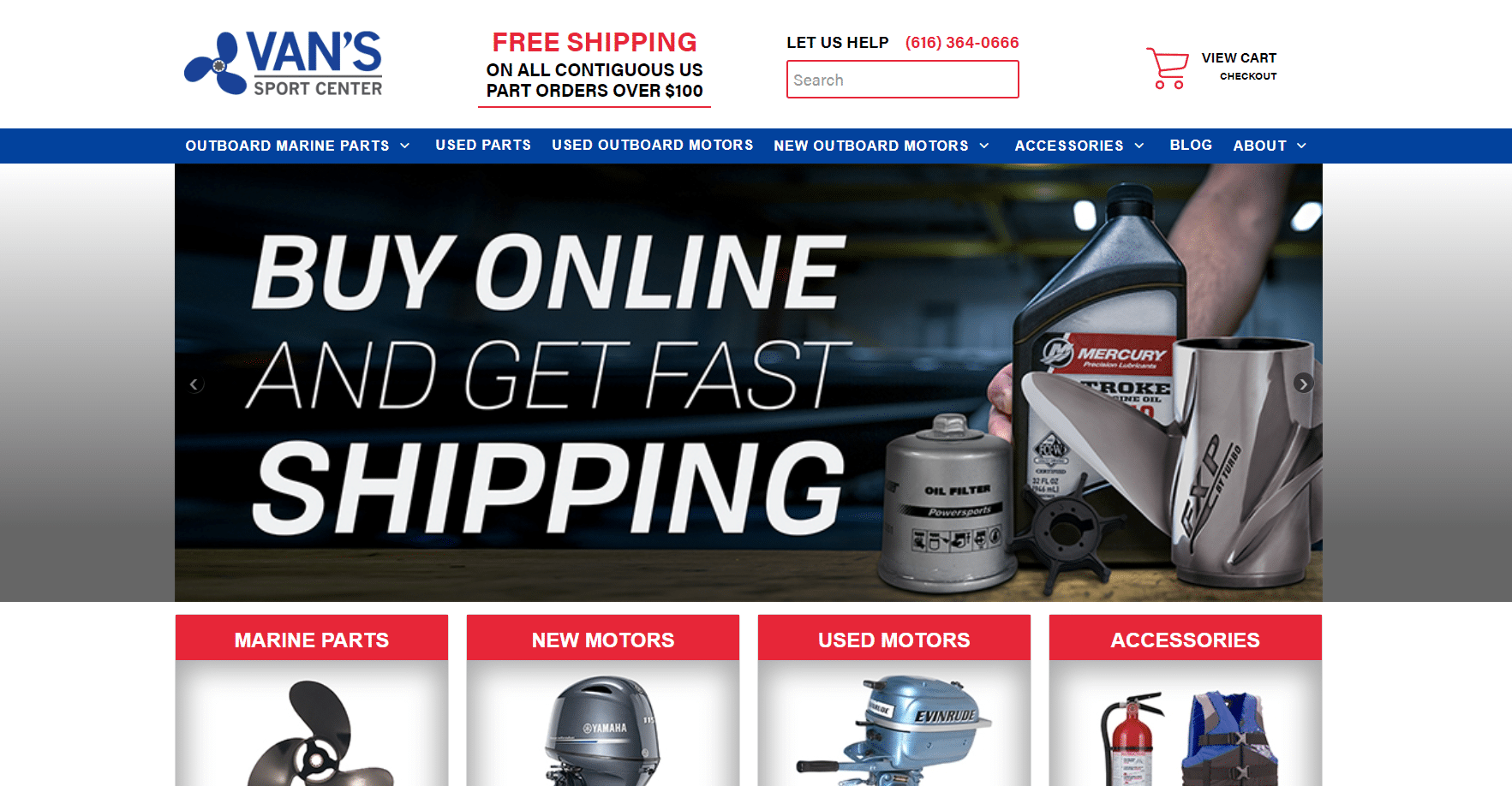 Nestled in Grand Rapids, Michigan, Van's Sport Center proudly stands as one of the Midwest's premier OEM dealers. With a comprehensive inventory, Van's Sport Center stocks a wide array of OEM outboard and stern drive brands, ranging from Evinrude, Johnson, OMC, Mercury, Mercruiser, Force, Chrysler, Yamaha, Suzuki, Tohatsu, to Nissan. Backed by their seasoned team, you can rely on expert assistance to address your inquiries, and should you be unable to visit their location, they're dedicated to swiftly dispatching your orders to ensure you get what you need in a timely manner.
Van's Sport Center has beena client for several years. The owner, Scott, utilizes our services for Van's and other business endeavors. When we built the website for Van's the features requested were:
Showcase the products and lines they carry
Ecommerce for online purchases that they can ship out. 
User-friendly across all devices
Maintenance with around the clock support, updates, and hosting. 
Van's Sport Center boasts a highly accessible e-commerce platform, ensuring a seamless shopping experience for all site visitors. Engine meticulously tailored the site to meet specific requirements. With our committed maintenance and support contract, Engine's developers are available around the clock, prepared to swiftly address potential security breaches or any other issues that could disrupt site's functionality. In the realm of e-commerce, maintaining up-to-date site functionality is paramount, and in the event of any downtime, the Engine team delivers personalized support to expedite a swift recovery, ensuring minimal disruption to your online operations.
I wholeheartedly endorse Engine Web Development. I've had the pleasure of collaborating with Jesper and his team for over a decade. During this time, they transformed my website from an informational site into a full e-commerce platform. Their expertise, amiable approach, attentiveness, and overall ease of collaboration make them an exceptional choice for any web development needs.