A Little Something Different: Let me tell you a Story.
From a young age I was entranced by computers and technology. I grew up in Denmark, and received a dual degree in Computer Science and Business at the Copenhagen Business College. While I was dedicated to my studies and eager to embark on a successful career in programming and development right on the cusp of the digital age (in the 1990's), life had other plans in store for me.
It was in the early days of the internet that I met this American girl online, and soon after (well, about 18 months after), I found myself on a life-changing journey across the Atlantic, fiancé visa in hand, to the United States. The decision to relocate was not without its challenges, but it was certainly the right one.
Upon immigrating to the United States in 2001, I quickly realized that achieving my career dreams would require hard work, determination, and resilience. Thankfully, my wife and I both had all of those things. In 2005, with unwavering dedication and a desire to create something truly special, I took the leap and founded what would eventually become Engine Web Development.
This venture was born out of a passion for personal relationships and a commitment to delivering quality experiences to people. It was about more than just business; it was about forging connections and leaving a positive impact on the lives of our clients and customers.
Over the years, our company has grown and evolved. Today, I am proud to say that our company continues to thrive, driven by the same values and principles that inspired its creation. It's a testament to the incredible opportunities that can arise when you're willing to take risks, work tirelessly, and never lose sight of your dreams.
As I reflect on my journey from Denmark to the United States; my marriage and the struggles we have had with work authorization, challenges with building a family, working multiple jobs, being far away from my family of origin and friends I grew up with, and the unknown challenge of entrepreneurship, I am reminded that anything is possible when you believe in your vision and are willing to put in the effort.
My wife Michelle and I now work together at Engine and have an amazing team around us for our clients. Technology certainly changes all of the time, but the one thing that always remains is why I started my company in the first place: dedication to my clients and quality service. If you ever want to reach me personally, my number is 616-378-0480 and email is jesper@runengine.com.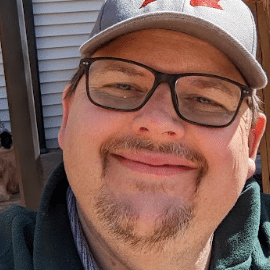 We've all got a story. This is a snippet of mine and I'm putting this here for you to give you a little insight as to who this guy with the different sounding name is (by the way, it is pronounced, "Yes-per") and what my company is about. Technology changes all the time and I keep up with it as best I can and thankfully have a great team that stays up to date with the latest tech trends.
Technology and figuring out a digital presence can be overwhelming and confusing. At Engine, our goal is to get to know you and your goals and then use our expertise to make the process easy and comfortable. You have a business to run and your own journey. Let us do what we do so you can do what you do best.