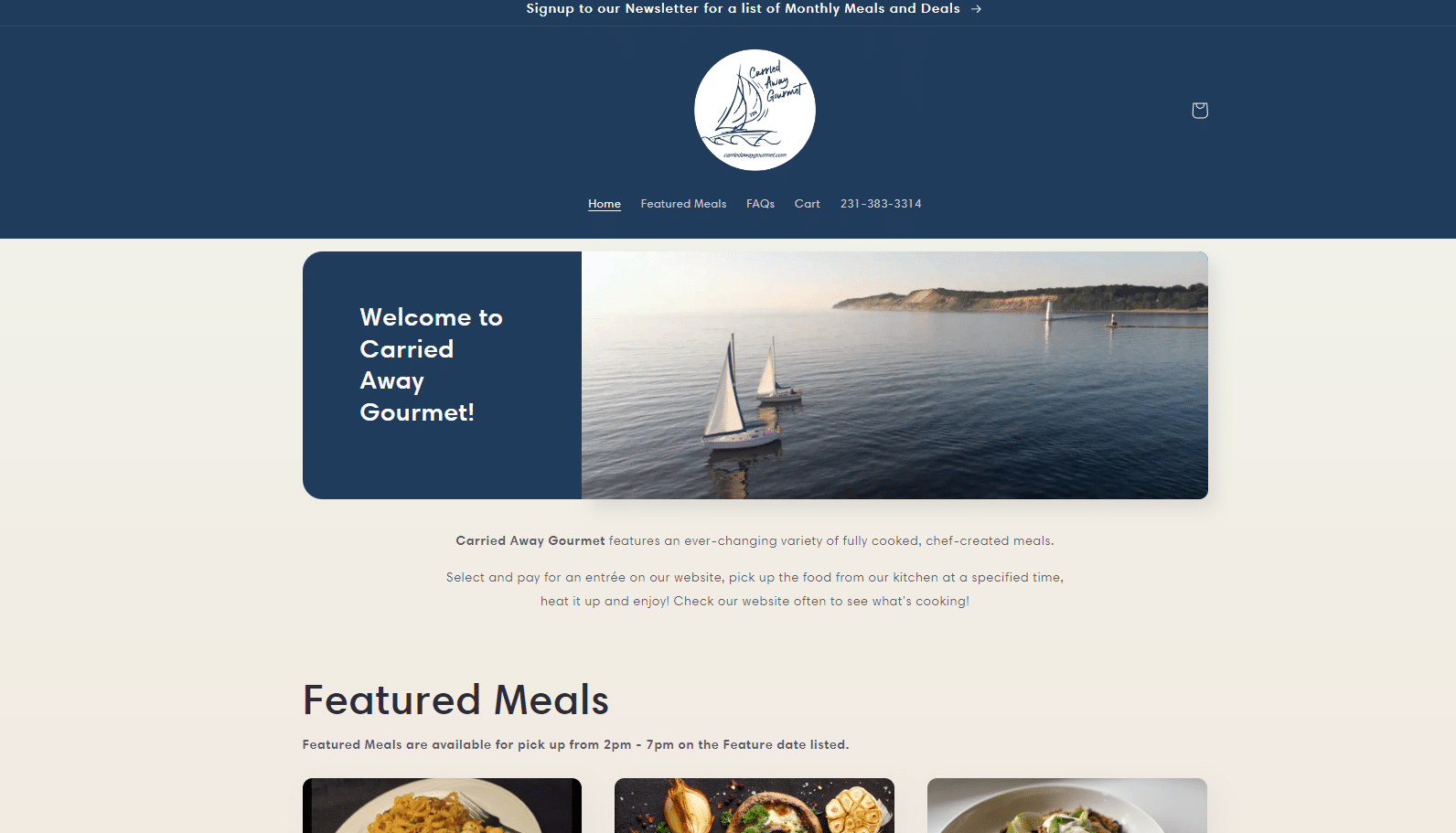 Carried Away Gourmet offers a delectable array of chef-crafted meals, available for convenient ordering and pickup. What sets them apart is their ever-evolving menu, featuring fresh, gourmet options that change on a monthly basis, giving the local community a delightful variety to choose from.
Distinguished by their commitment to handcrafting every dish to perfection, Carried Away Gourmet is a proud member of a collection of catering businesses located in the vibrant culinary landscape of West Michigan. These businesses are owned by a highly esteemed client who is not only exceptional at what they do but also a pleasure to collaborate with.
Carried Away Gourmet
This business is part of a collection of catering businesses in West Michigan owned by a client that is great to work with. Carried Away Gourmet provides chef-cooked meals that can be ordered and picked up. The goals of this client were to create a site that was:
easy to use
fresh, changing content to highlight offerings
mobile friendly
At Engine, we took on the task of designing the new website, diligently incorporating the specified requirements. This is a great example of a small business website. The need to be clean and precise, easy to use and does not need a great amount of pages is seen here. In addition, the client sends Engine the menu information each month to update and we also produce a newsletter to her subscribers. This newsletter has all of the meals listed as well as any specials, news or promotions. We also assist with creating and adding any updates to the website as needed.
Interview with Kim Smith, Owner of several Michigan Catering Companies including Carried Away Gourment.
In what ways has working with Engine exceeded your expectations?
Engine brings creativity, ingenuity and fresh ideas to every opportunity. I can always count on them for great collaboration and a streamlined finished product!
Would you recommend Engine to others looking for similar services or collaborations? If so, why?
I would absolutely recommend Engine to others looking for any sort of web design services. Engine brings current ideas and a creative team to make each of my business present differently. I can count on them for great ideas to elevate and position each business differently.
How was the communication and collaboration process with Engine?
The communication and collaboration process with engine is seamless and streamlined. They are always professional ready to tackle any challenge I bring them.
What specific qualities or strengths did Engine bring to the table?
I feel the best attributes engine brings to the table are communication, creativity & implementation. I LOVE working together!
What words or phrases would you use to describe Engine's work and character?
Engine displays new energy for every project. They come to the table ready to be creative and share new ways of presenting information. Engines brings years of service and satisfied customers to the table and I am proud to be one of those satisfied customers!